Cycling the greenway
Again this year we made great use of the greenway which is right on our doorstep. Mr. Keena's and Mr. Daly's classes brought in their bicycles and took off on a number of cycles which culminated in our final cycle of the year from Moate to Garrycastle, a round trip of 24 kms!! What else can you do when you reach Garrycastle but refuel for the cycle back!
Cumann na mBunscol
Our boys Gaelic football team reached the division 1 shield final for the second year running after a series of excellent victories including a super semi-final win v Kinnegad. Unfortunately, despite a strong first half we came unstuck against an older, physically bigger Saint Colmans side. We cannot fault the skill, determination and attitude shown by the lads all year who trained hard since September. Here are a selection of photos from throughout this season…roll on next season!
We continue to be an active school by taking part in a fitness class. All classes were put through their paces during this bootcamp style class. It was so enjoyable.
We enjoy…….
Playing basketball
Playing football
Playing rugby
Hurling
We are….
Active Flag
St. Oliver Plunketts B.N.S are proud to be an active school. We recognise the importance of a healthy lifestyle which is essential for maintaining and protecting children's health and ensuring they develop to their full potential. One of our aims is to help our pupils establish a healthy lifestyle that will continue with them into adulthood.
Being active plays a very important part in life at St. Oliver Plunketts and participation by all is encouraged.
Active school committee: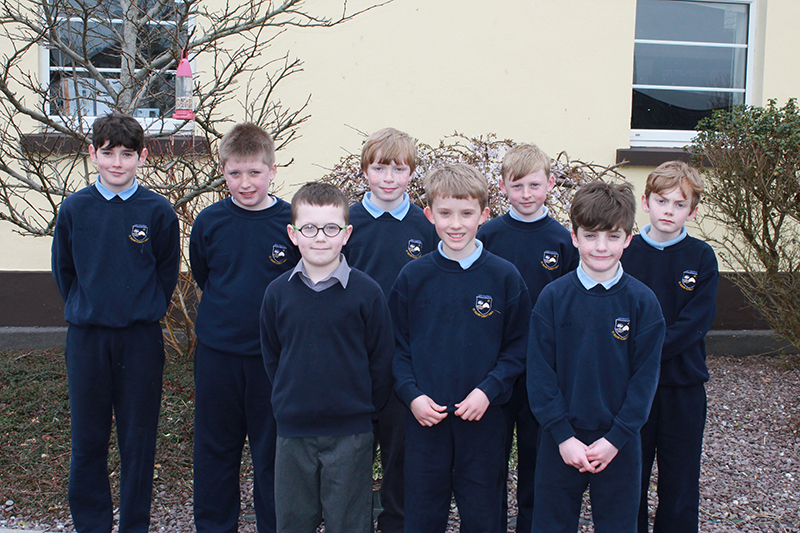 Students from 2nd- 6th class make up our Active School Committee and they have been busy!! They regularly meet and have been planning and coming up with ideas including designing an Active Flag board to keep the whole school informed about active news and events. As well as this, the students are responsible for maintaining and organising our p.e. equipment and making sure our sports shed is in good order.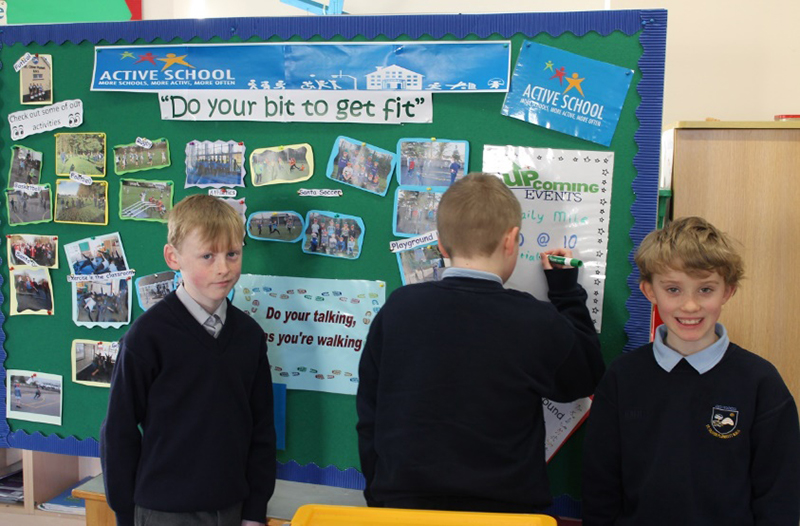 Some of our committee members updating our Active Flag events board.
Physical Education:
P.E. is one of our favourite parts of the week. It is the time when we put down our books, get out of our seats and get moving.
Athletics:
We chose to prioritise athletics in our school this year. Our teachers were busy as they engaged in cpd in athletics, they then shared their knowledge and resources with all staff members at croke park meetings. Also, every Friday we linked up with Athlone Institute of Technology to take part in an athletics programme. This included:
Cross Country Running:
Games:
We enjoy taking part in all the different games in P.E. including basketball, soccer, G.A.A. and rugby. We are very lucky to have coaches from local clubs come in to train us.
Basketball:
Rugby:
Hurling:
GAA:
Soccer: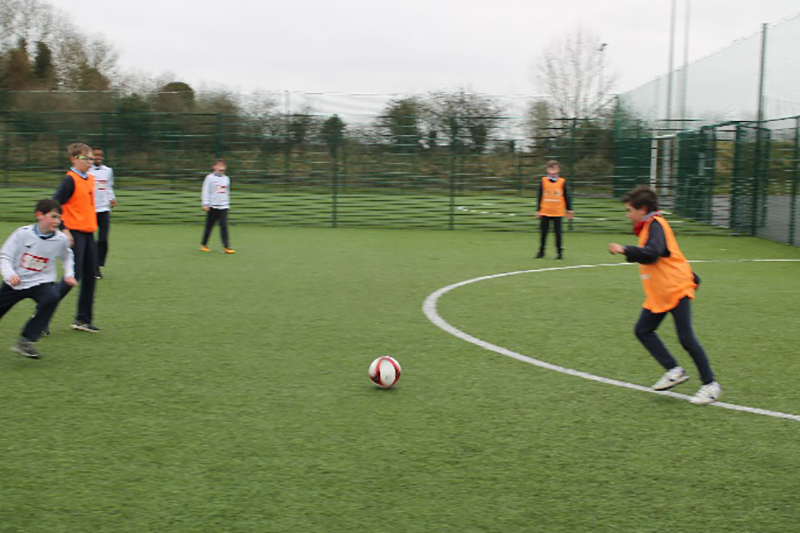 Aquatics:
We travel to our local swimming pool to take part in our swimming lessons which continue over an 8 week period. We love getting into the water to practise our swimming strokes and building on what we learned last year.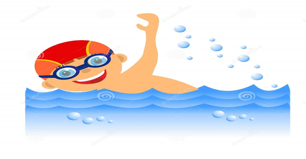 Outdoor and Adventure:
We love to see maths in action so while the sun shone each class took advantage and did a maths trail outside. We had to solve a series of puzzles which had us searching all around the school grounds.
2nd class also took part in an orienteering task. They used the nearby field to search out and find the different stations.
Gymnastics:
Our teachers have been using the PSSI lessons to help with gymnastics lessons. These are very useful and offer some great lesson ideas and tips on how to teach gymnastics. Here are some pictures of 6th class doing some forward rolls and handstands as well as are series of gymnastics sequences.
Dance:
We really got moving in our dancing class. Over a number of weeks we practised daily until we were confident enough to put on a performance for the school. As a cross curricular link we decided to put on our performance during Seachtain na Gaeilge. Click on the link to see our fancy footwork.
Physical Activities:
Santa Dash
We kicked off the Christmas season by taking part in a Santa Dash. Everyone was encouraged to dress up in a festive way and hit the Greenway.
Santa Soccer:
We kept the festive feeling going by have a Santa Soccer Tournament. It was Elves v's Santas.
Futsal:
Playground Leaders:
Our 6th class pupils take on the role of "Playground Leaders" to our 2nd class students.
Every Thursday 2 of our senior boys set up stations for the younger students to take part in.
Using a variety of equipment from our sports shed they create different games and tasks which keep the 2nd class interested and also helps the boys reach their 60 minutes a day activity goal.
Daily Mile:
We are enjoying taking part in our 'Daily Mile'. We are so lucky to be situated near a Greenway and we really take advantage of that. Every day, every class takes time out to complete the mile. Run, jog or walk all levels of ability are catered for.
Yard Games:
Although we really enjoy playing soccer and basketball at break time we also love to search the sports shed and make use of our sports equipment.
This year we also had games stencils painted onto what was once unused space in our yard. Now we enjoy getting our heart rates up on our giant snakes and ladders or our X's and O's games.
Wet Days:
The weather doesn't get the better of us, even when we can't get outside we still "Do our bit to get fit"
We use Go Noodle and the 10 @ 10 to keep us moving on wet days or as activity breaks between subjects.
Active Schools Week:
We had a jam packed week of events for our Active Schools Week. Every day the whole school came together to get moving. This even included homework!! active homework that is….now that's homework we don't mind getting.
Monday:
We were so excited to have champion kickboxer Caradh o' Donovan launch our Active School Week. As well as putting us through our paces with drills…
Caradh also gave a great talk on exercise, healthy eating and never giving up.
Active homework: 10 squats, 10 lunges and 10 sit ups x2.
Tuesday
Local martial arts and boxing star Martin Ward came in to get us active.
Martin taught us the importance of how little physical breaks everyday will soon build up to a healthier, stronger body.
Active homework: 15 star jumps, 15 seconds running on the spot, 15 squats x2.
Wednesday:
It was Walk on Wednesday or WoW day. We met up at 2 different points in the town and walked to school. A big thank you to the local Gardaí for helping us to get to school safely, it was a great way to start the morning.
Active homework: 10 burpees, 10 push ups, 20 high knees x2.
Cross curricular link- Maths
We love to see maths in action so while the sun shone each class took advantage and did a maths trail outside. We had to solve a series of puzzles involving measuring, shapes and data which had us searching all around the school grounds.
Thursday:
Muireann Scally from Westmeath GAA joined us on Thursday for a GAA taster.
This included skills development (hand passing, kick passing, catching, soloing) and also mini games.
Active homework: bear crawls 30 secs, plank hold 30 secs x3.
Friday:
Sportathon day!! We had a full day of activities today including circuits, rounders, basketball and an obstacle course. All our active homework over the week had us fit and ready for this busy day. This was a fantastic end to a fun filled week.
Partnerships:
Operation Transformation 10 @10:
10 o clock was time to drop pencils and get active for 10 minutes. Our teachers seemed to be getting fitter as well.
We are so lucky to have links with many local organisations who throughout the year have come in and coached us.
Westmeath GAA:
Muireann Scally came in every week to help us work on our gaeilc skills through fun drills including ball control, hand passing and movement. We'll bring these skills onto the pitch for future games.
Athlone Basketball Club:
Paddy Mullally has been training us all year, teaching us different drills and setting up games for us. This culminated in us taking part in a basketball blitz over 3 weeks and got us to the semi-finals. We were delighted to take part.
Midland Warriors:
Our rugby coach trained us on a weekly basis, this training helped us grow in confidence so much so we took part in a full day blitz. It was great competing against other schools in the area.
Na Fianna:
Martin Ward joined us on Fridays to pass on his martial arts and boxing skills. This included pad and glove drills, strength and conditioning. He advised us to do a little bit of strength work including sit ups and push ups every morning and we would really see the benefits of them.